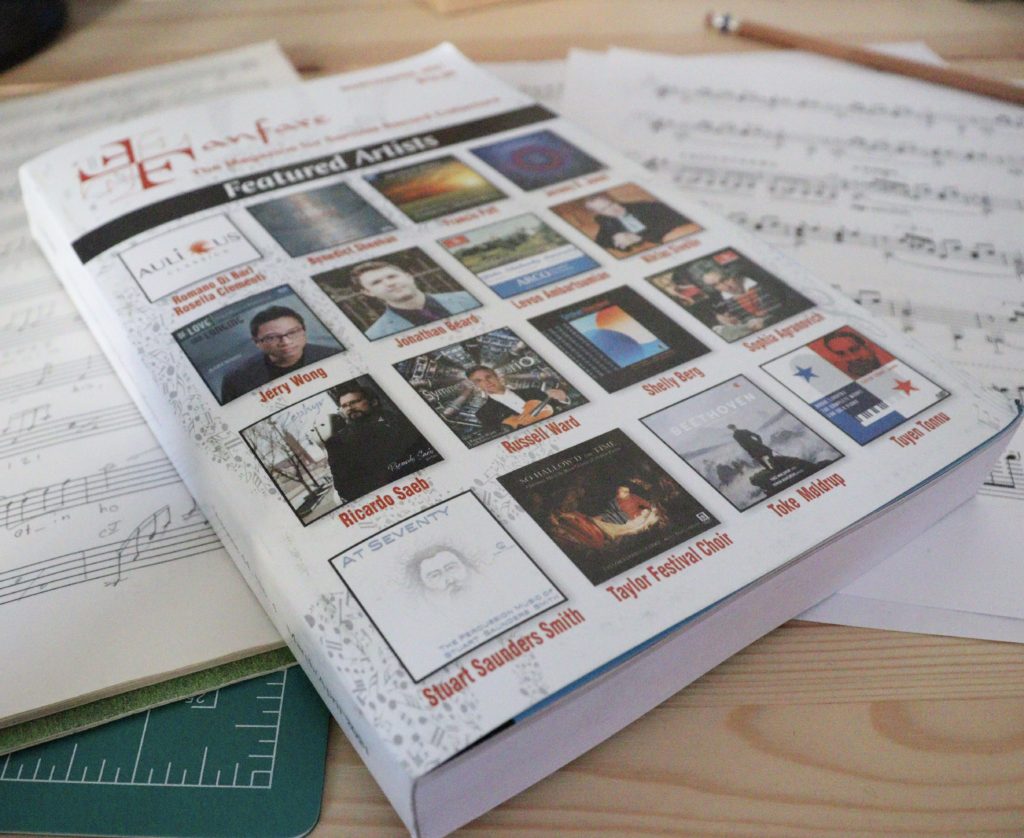 Magical Moments: A Conversation with Guitarist Ricardo Saeb
BY ROBERT SCHULSLAPER
Mexican guitarist Ricardo Saeb's solo and concerto performances throughout Latin America, Europe, the Middle East, and the United States have been praised as "simply spectacular," "perfectly balanced," and "of an exquisite subtlety." Having studied in both Mexico and the United States, he now lives in Buffalo, NY, where in addition to teaching at the Castellani Andriaccio Guitar Studios he directs the Hispanic Heritage Council Guitar Initiative, a community-based organization that presents concerts featuring some of the best guitarists in the world and offers free guitar lessons to children of underserved populations. Blessed with a genial disposition, he savors the special bond uniting audiences and performers in their shared musical experiences, so it was a pleasure to speak with him recently about these and other matters, including Zephyr, his debut CD for Fleur de Son Classics.
Was music important in your family?
Although I'm the first person in my family to be devoted entirely to music, I do come from a musical family. My grandmother used to sing opera when she was young, and she even won some competitions; one of my aunts used to teach and perform on the piano; and my dad was in the children's choir at the Palacio de Bellas Artes, in Mexico City, where he would sing in operas starring figures like Giuseppe Di Stefano.
What are some of your earliest musical memories?
I always loved music. When I was four, my hero was Plácido Domingo and I used to sing all the time, trying to imitate him. I think that, in great part, my joy of music developed during a time when my family and I used to take very long road trips, and we would pass the time listening to a very wide variety of music, from Ravel and Tchaikovsky to The Doors or Michael Jackson. My dad would often test me to identify instruments, and I think that shaped the way I listened to and experienced music.
My involvement with the guitar began by chance. When I was in third grade, my school started offering only guitar classes; there were no other instruments to choose from, so I registered and my parents got me my first guitar. Unfortunately, these classes didn't last more than two months, as the teacher suddenly quit. My mom then tried to put me in a more serious music school, but they didn't take children, and my guitar gathered dust in a corner for years.
When did that situation change?
It wasn't until I was 13 that I had the opportunity to study guitar. Ironically, I wanted to be a rock star, but since I only had a nylon string guitar, my parents put me in classical guitar lessons. This was the happiest mistake, because I immediately fell in love with the classical guitar, and although I eventually got an electric guitar and played rock, my true passion remained the classical guitar.
Do you play other instruments?
I play a little bit of piano, the oud, and of course electric guitar.
Given that your "true passion" is the classical guitar, does that also mean that classical music is your favorite genre, or do you have wider, more eclectic tastes? I know that you've performed on at least one jazz album—did you improvise or play a notated part? Also, do you compose?
I love music in all its forms: I love tango, flamenco, blues, rock, bluegrass, all sorts of folk music, you name it. But I mostly play classical guitar because it's where I feel at home. I try to find repertoire or arrange pieces that satisfy my interest in other genres, but all done for the "classical guitar." For [saxophonist] Rusty Crutcher's album, Romances Latinos, I played a notated part. But while I didn't improvise on that CD, I do like improvising on the oud. I really enjoy the freedom of not having any frets and playing with microtonality. As far as composition goes, I've done some arrangements that sometimes I include in my programs, but I just don't have the ego necessary to compose.
Anything you'd like to share about your teachers?
I was very fortunate to have studied with multiple teachers. I learned very different things from each of them, and I think it gave me a certain degree of flexibility both artistically and technically. I owe a lot of thanks to each one of them.
You initially studied in Mexico, then Texas, eventually going to the University of Kentucky for your Ph.D.
Every place I've been in has contributed in a different way to my artistic development. The time I spent in the Conservatorio de las Rosas, in Mexico, was one of my most amazing experiences. At the conservatory I used to eat, drink, and breathe music 24/7. It was a kind of commitment to music that you don't find in college. All my classes were music-related; I used to practice around six hours a day, and I used to attend between three to four concerts a week. As a result, most of my musical culture came from those years.
In the University of Texas at Austin, I enjoyed the tremendous resources and the outstanding faculty the university had to offer. I had the amazing opportunity to work and refine my technique under the supervision of maestro Adam Holzman; I enriched my perspective with excellent non-music classes; and I had the opportunity to listen to and meet such figures as George Crumb, Philip Glass, and John Corigliano. Finally, I devoted my time at the University of Kentucky to plugging any remaining holes in my musical education and working on my weaknesses in order to become a better rounded musician. Working with such an eclectic musician as Dr. Dieter Hennings was instrumental in achieving this.
Would you like to commission music? Perhaps you've already done so…
Yes, I've had the opportunity to premiere several pieces for some amazing composers here and in Mexico, and I'm actually waiting for a couple of pieces I commissioned from two Mexican composers.
You've named your CD Zephyr after Christopher Gainey's piece of the same name. Is there a story there?
I met Chris here in Buffalo, NY, through jazz guitarist Drew Azzinaro. Chris, Drew, Jared Tinkman, and I started working on some guitar quartets, which was when I had the opportunity to read Zephyr. At the time, Zephyr was Chris's only composition for solo guitar. I was basically already set on the album's repertoire, but I just loved the piece so much, I decided to include it in the program.
Did you work with him on your interpretation?
I decided to include Zephyr just a few weeks before recording, so I did talk to him to make sure I understood the piece's aesthetic accurately. It didn't take long. Chris is such a great guitarist and composer that his writing speaks for itself; it's extremely precise and very clear.
Do you keep in contact with contemporary composers as a means of adding to your repertoire, or out of curiosity about what they're writing, or both?
Yes, some of my dearest friends are composers and I'm an avid music reader, so I'm constantly buying music and reading new pieces.
Do you have any favorites among classical music's various aesthetic movements?
Not really, it depends on the weather and the composer.
Is chamber music important to you?
I love playing chamber music, and I try to do it as much as I can. Part of the fun in doing so is the possibility of playing repertoire outside of the ordinary, and learning from other musicians.
As most of the composers featured on Zephyr are Spanish or Latin American, have you concentrated on similar repertoire in your concerto appearances, or have you branched out?
I've had the opportunity to perform some of the most popular concertos that happen to be Spanish/Latin, such as the Concierto de Aranjuez and the Concierto del Sur. However, I also wrote and performed an arrangement of a guitar part for Ernesto Lecuona's orchestral suite Suite Andalucia and I have also performed other concertos, like a couple of Vivaldi's, and I was about to perform a concerto inspired by Paganini's Grand Sonata before the pandemic closed everything.
How did you come to found the Hispanic Heritage Council Guitar Initiative?
I'm conscious of how privileged I've been. I had access to a great education, and had the opportunity to travel, meet, and learn from amazing musicians. I don't take any of this for granted, and I promised myself to do something to provide these same opportunities to those who need them the most.
When I moved to Buffalo, NY, I was invited to join the board of directors of the Hispanic Heritage Council of Western New York, a non-profit that celebrates the contributions of the Hispanic community to WNY. I saw the Council as the perfect platform to develop a multifaceted community program that would focus on three main areas: free guitar classes for children, free community concerts, and recitals in community centers for those in need. The way I see it, these three programs address multiple fronts. Of course, we fill educational holes in order to achieve equity, but we also think about music as a tool for life, as a potential professional skill for kids that may not have access to higher education. Through our free concert series, we reach out to unconventional audiences, we give people the opportunity to listen to music they've felt excluded from or snubbed by, and we expand their musical horizons. These activities not only help the people receiving the services, but also help the survival of the classical guitar, as we are continuously growing new students and audiences.
With the support of the HHC, the Castellani-Andriaccio Guitar Duo, and the guitar community of WNY, I developed the curriculum and business plan, applied for grants, raised funds, and got the program started on September 15, 2019. And although the pandemic has halted our concert series and community recitals, we've continued uninterruptedly with our classes (online) until today, and we have found ways to continue our mission by creating online content that has reached a wider audience.
Was there a particular aim behind your choice of music for the CD?
The repertoire of this album doesn't follow a theme or time period. I think that with electronic platforms and music subscription services, technology has transformed the way we listen to music. We now tolerate drastic contrasts between pieces and we tend to listen less to complete albums. So this repertoire has this in mind; this album is in essence a playlist of some of my favorite guitar pieces. I tried to include some variety. There are some of the sweetest and most beautiful pieces in the repertoire, like Un sueño en la floresta by Agustin Barrios, or Platerías by Gerardo Tamez; some of the most exciting contemporary pieces, like Elogio de la danza by Brouwer and Zephyr by Gainey; and some virtuosic pieces, like Le Fandango of Dionisio Aguado and Sonata giocosa by Joaquín Rodrigo. Additionally, it was very important to me to have something of my Mexican heritage in this album, so I included an arrangement by Julio Cesar Oliva of the very popular folk song, La llorona. La llorona, which is strongly associated with the festivities of the Day of the Dead in Mexico, is my little tribute to those loved ones that supported me through the years but are no longer here with us. I think that the repertoire is fun; it has a nice flow and can be enjoyed in its entirety.
It must be exciting for you to have recorded and released your first CD. How long was it in preparation?
Yes, it's been very exciting. For the last 15 years, I've been living a nomadic life that hadn't allowed me to do many things I wanted to in my career, and recording an album was definitely on the top of the list. The planning process took around four months. I think I first met with maestro Michael Andriaccio to discuss the project in late July, decided the repertoire by September, and recorded at the beginning of December.
Is this music you've performed many times or did you learn it specifically for the CD?
Some of the pieces I've played for many, many years, like the Elogio de la danza, the Fandango, and the Choro de Saudade. But there were others that I began to learn shortly before the recording planning stage, like the Sevillana and La muerte del ángel. The only piece that I learned specifically for this recording was Zephyr.
You're now living in Buffalo, a city I always associate with the Buffalo Philharmonic's avant-garde concerts under the direction of Lukas Foss and Michael Tilson Thomas. Is that dedication to adventurous programming still a feature of the Buffalo scene?
The decision to move to Buffalo happened when my wife, who is a brilliant scientist, was offered a professorship at the University of Buffalo in the Microbiology Department. Understandably, the place of residence is slightly less consequential for a musician than for a scientist, and Buffalo was a great opportunity for my wife. It was, actually, a very unexpected and pleasant surprise to find the vibrant music scene in Buffalo. The BPO is indeed a landmark of the city and the people are very proud of it. We have the JoAnn Falletta Guitar Concerto Competition happening every other year. There are multiple guitar programs in the area, like those at the University of Buffalo, Buffalo State, and Fredonia. Toronto, with its amazing guitar society, is close by, and Eastman is just an hour away. Overall, Buffalo turned out to be a great place to be for a guitarist.
What do you enjoy most about performing?
I enjoy the synergy between performer and audience. Concerts are for me magical moments in which performer and audiences get to share and shape music together. It is after all the response of the audience that shapes the way you play—the tempo, dynamics, everything. Music can be something stiff in the practice room, a constant pursuit of a fixed ideal of perfection; but on stage, music is alive, fluid, ever changing, everything music was intended to be.
When did you begin performing?
As I mentioned before, I didn't start my guitar studies at a particularly early age. However, once I started I took it with the utmost dedication and seriousness, and I started performing right away. My first complete solo recital was when I was 17 in my hometown of Chihuahua, in a beautiful old museum. I remember I played a Bach suite, another suite by Robert de Visée, some Tárrega, Brouwer, Barrios, Sor, and Scarlatti. Around 200 people attended and I remember being very nervous, but I also remember the fulfillment I felt once I played the last note. That recital was so successful and exciting that I continued to perform at least four times a year during my undergraduate years.
Some of the venues I had the opportunity to perform in during those early years were incredible. I remember, for instance, performing at the International Music Festival of Morelia, in Mexico. The recital was outdoors, in a place decorated with beautiful real-flower carpets—it seemed out of a dream. I also remember performing in a concert in Córdoba, Spain. It was in a beautiful plaza on a summer night; people would come and bring their wine and sit and listen, the atmosphere was amazing, and the crowd was great. Leo Brouwer, Costas Cotsiolis, and Roland Dyens were in the crowd and we got to party with them afterwards; it was an unbelievable night for a young guitarist.
How do your roles as soloist, chamber musician, or concerto soloist differ from one another? Also, do you like to speak to your audiences in between selections?
Performing solo, in chamber music, or with an orchestra are all very different experiences, and I enjoy them all greatly. I love the autonomy of performing solo. It's always nice to be the sole architect of the interpretation. I like that working solo you can really dig into the tiniest details and express your own uncompromised artistic vision. Ironically, the aspect I enjoy the most about playing with other musicians is exactly the opposite: I relish the conversation and collaboration that happens when playing with others; it's always a humbling and enlightening experience. I have learned as much or more from the musicians I've played with as I have from my mentors.
Then there's performing with orchestra, which is one of my favorite formats. There are few experiences comparable to being accompanied by an orchestra: the variety of timbres, the sound masses, the response to the conductor, is truly an intoxicating experience. I think that for us guitarists, as we tend to spend so much time on our own, having the opportunity to share the stage with other musicians is among the most satisfying experiences.
Regarding the interaction with audiences, I always talk with the audience. The way I think about it is that today's listeners don't have the same perspective as audiences in the 18th or 19th century. So we can't expect audiences to be able to follow if we don't provide the right context. It's like reading the Divine Comedywithout footnotes, or like showing Once Upon a Time in Hollywood to a teenager; he might enjoy the book or movie, but without context he'll miss all the cultural quotations that are crucial to the gravitas of the story and that bring those eras to life. I think that the misconception of classical music being snobbish and the decay of audiences worldwide are very much because of this. There is a heavy expectation placed on listeners to know about many things in order for them to appreciate music. Not only is this unrealistic, it's also uninviting. This is why I always make an effort to give a little bit of context for people to appreciate with me those special things I find in my repertoire.
What are some of your plans for the future?
First, I'm looking forward to putting the pandemic behind us and going back to performing and promoting this album. Second, I do want to record more albums; there's a lot of music out there that I'm looking forward to record.
How are you adjusting to the pandemic? Are you teaching on Skype or giving online concerts?
I've been doing alright, all things considered. I'm teaching entirely online. I'm not really into online concerts, but I've done a couple. I'm able to run the Guitar Initiative from home; I've increased my online presence with more music videos; my family and I are healthy, and I just released my first album. All things considered, I think I've done fairly well this year.
Copyright © 2021 by Fanfare Inc.