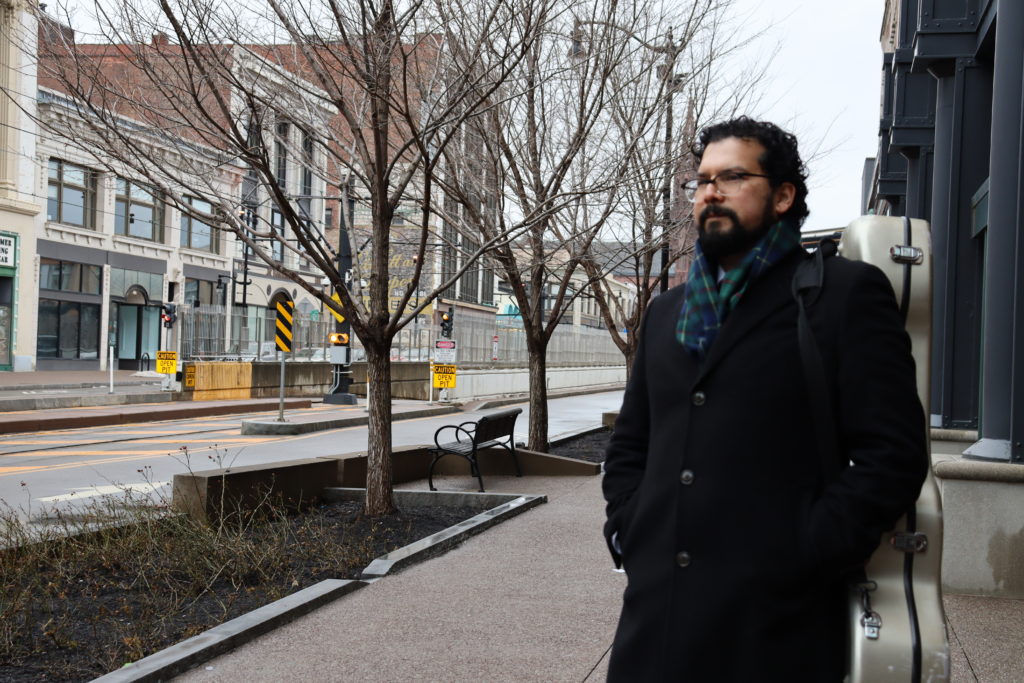 English
Mexican guitarist Ricardo Saeb has performed in venues across Latin America, Europe, the Middle East, and the United States. His performances have been described as "perfectly balanced," "of an exquisite subtlety," and "simply spectacular." His tours have taken him to cities as diverse as Querétaro, Beirut, Ciudad Juárez, Austin, Boston, Dallas, and Córdoba. Ricardo Saeb has appeared as a guest artist at international festivals such as the Festival Internacional de Música de Morelia, Festival Internacional Chihuahua, Queretaro's International Guitar Festival, Chicago's Latin American Guitar Festival, among others.
Ricardo has appeared as a soloist with numerous orchestras in Mexico and the USA, performing some of the most iconic guitar concertos. Ricardo has also collaborated with various artists including tenor Manuel Castillo, pianist Cliff Jackson, the Buffalo Chamber Players, and is featured in jazz saxophonist, Rusty Crutcher's album, Romances Latinos.
Ricardo began his music education at the Conservatory of Chihuahua, and continued at the Conservatorio de las Rosas and the University of Texas at Austin. In 2016, he received his Doctorate degree in Musical Arts from the University of Kentucky, under the mentorship of professor Dieter Hennings.
In addition to performing, Dr. Saeb enjoys sharing his philosophy on guitar pedagogy and enthusiasm for music. He has adjudicated guitar competitions and has given masterclasses at the University of Texas at El Paso, Indiana University Southeast, Texas A&M International Guitar Symposium, National Guitar Competition of the UACJ, etc.
Ricardo recently moved to Buffalo, NY, where he founded a community program through the Hispanic Heritage Council of WNY, called the HHC Guitar Initiative. The Initiative gives free guitar classes for children of underserved populations, and brings some of the best guitarists in the world to Buffalo in a free International Concert Series. Ricardo teaches privately at the Castellani-Andriaccio Guitar Studio, and he recently released his premier solo recording with Fleur de Son Classics, titled Zephyr. This recording includes works by Rodrigo, Brouwer, Tamez, Gainey, Aguado, Barrios, and Oliva.
Español
Originario de Chihuahua, Chihuahua, el guitarrista Ricardo Saeb se ha presentado en escenarios de México, el Medio Oriente, Europa y los Estados Unidos. Su interpretación ha sido descrita por la crítica como "perfectamente balanceada", "de una exquisita sutileza" y "simplemente espectacular". Su actividad concertística lo ha llevado a presentarse en ciudades tan diversas como Querétaro, Beirut, Ciudad Juárez, Austin, Boston, Dallas y Córdoba. Ricardo ha participado como artista invitado dando conciertos en festivales internacionales como el Latin American Guitar Festival de Chicago, Festival Internacional de Música de Morelia, Festival Internacional Chihuahua, Encuentro Internacional de Guitarra de Querétaro, entre otros.
Ricardo ha sido solista con diversas orquestas en Estados Unido y México, interpretando las obras más representativas del repertorio guitarrístico. Ha colaborado con artistas como el tenor Manuel Castillo, el aclamado pianista Cliff Jackson y el Buffalo Chamber Players, entre otros. Ricardo aparece como artista invitado en el album Romances Latinos junto al saxofonista de jazz Rusty Crutcher.
Ricardo inició sus estudios musicales en el Conservatorio de Chihuahua, continuó en el Conservatorio de las Rosas y posteriormente en la Universidad de Texas en Austin. En 2016, Ricardo obtiene el Doctorado en Artes Musicales de la Universidad de Kentucky bajo la supervisión del maestro Dieter Hennings.
De manera paralela al concertismo, Ricardo disfruta el impartir clases, dando masterclasses internacionalmente en universidades, festivales y concursos de guitarra. Previo a ser invitado a continuar sus estudios en la Universidad de Kentucky, Ricardo fue catedrático de la Universidad de Ciudad Juárez.
Ricardo actualmente radica en Buffalo, NY, donde, a través del Hispanic Heritage Council of WNY, fundó el programa comunitario HHC Guitar Initiative. Esta iniciativa se dedica a impartir clases de guitarra gratuitas a niños de escasos recursos y trae a los guitarristas más prestigiados del mundo a Buffalo a dar conciertos gratuitos en el International Concert Series. Ricardo imparte clases privadas en el Castellani-Andriaccio Guitar Studio. Ricardo recientemente lanzó su primer album como solista con Fleur de Son Classics, titulado Zephyr, el cual incluye piezas de Aguado, Barrios, Brouwer, Gainey, Turina, Oliva, Tamez y Rodrigo.